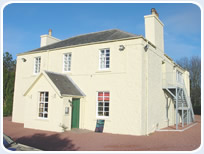 Your resident hosts are Gary & Karen Conlan, who are responsible for the day-to-day management of "The Plantings". Karen is in charge of Front of House, while Gary is in charge of the Engine Room (Kitchen), where he oversees the preparation and cooking of his inimitable style of cuisine.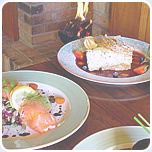 Welcome
Welcome to the Plantings Inn, Castle Kennedy owned and operated by the Conlan Family.
A traditional Country Inn and restaurant for the very best of food, functions and fun. On the A75 between Stranraer and Newton Stewart.
In January 2002, the building was purchased by the Conlan family and had lain empty & unoccupied for just over a year. Needless to say the internal & external aspects were in a state of disrepair and needed total refurbishment.
The Conlans set about creating a tranquil Country Inn of character and work began in March 2002. A new roof was first on the list of priorities, then to concentrate on the internal aspects, which were ripped out to the walls and totally revamped.
A particularly striking feature is the state of the art kitchens.
The acre or so of grounds in which the Inn stands were totally overhauled creating a truly wonderful al fresco dining area, and in the pipeline is a children's play area for our little customers.
The letting rooms, of which there are five – 3 single and 2 twin / double, accommodating 7 guests – have had the same refurbishment.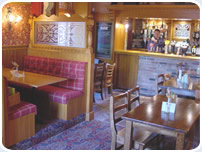 We are currently awaiting an inspection from the STB and have 2 Star AA grading.
Well that's the history , and what have we created:
A family friendly Country Inn where families are welcome all day until 7 in the evening.
From 7 in the evening, the lights are dimmed, the candles come out, thereby creating an intimate country pub atmosphere where adults can enjoy a wonderful evening of fine Scottish Cuisine, accompanied with an international, personally-selected wine list in a smoking or non-smoking environment.